Posted by Admin on Jul 29th 2022
Do you know someone obsessed with drinking coffee or who has the same appetite for desserts?
Coffee and desserts can be a great match. The best cup of coffee you'll ever have is a cup of coffee that comes with dessert.
This is because they have a variety of tastes and textures that helps you find your perfect sweet tooth fix every time!
Think about the rich, bold elegance of an espresso bean shot to the sticky sweetness of pound cake covered in a ganache glaze. If you love coffee and desserts, then you'll delight in this perfect mix as there is something magical about them paired together.
And you know what the best part is? Coffee can be a great base for many of your other favorite desserts too.
You can use it to make espresso drinks or flavor coffee creamer. And if you're looking for a sweet treat that's low in calories but high in flavor, consider making coffee ice cream!
So, if you're a coffee-lover, here are some popular coffee desserts for you to try out!
1. Coffee Pie
The coffee pie is a delicious traditional dessert that is easy to make and tastes great, mostly enjoyed with a hot cup of espresso or flavored coffee.
The pie filling usually consists of a custard base, vanilla and chocolate chips, and whipped cream. This pie has a great texture because it's made with a few ingredients rather than tons of sugar or butter.
The combination of flavors is sure to wake up your taste buds and give you a nice boost of caffeine as well.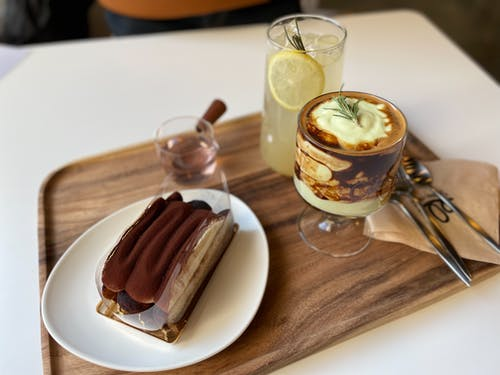 2. Chocolate Hazelnut Coffee Cake with Vanilla Bean Frosting
A chocolate hazelnut coffee cake with vanilla bean frosting is a delicious treat that's perfect for any occasion. This coffee cake is rich and decadent, with a hint of hazelnut flavor and a touch of vanilla bean frosting.
The recipe calls for instant espresso powder, but you can substitute regular instant coffee granules or freshly ground beans if you prefer. If you want to add even more chocolate flavor to the cake, pour a tablespoon or two of melted semisweet chocolate chips into the batter before baking.
For a fun twist on this dessert, try topping it with fresh raspberries instead. For an even more dramatic look (and an even more delicious taste), add some sliced almonds on top of each slice before serving!
Either way, this dessert is perfect for any occasion!
3. Creamy Coffee Cake with Banana-Caramel Sauce
This coffee cake is a twist on classic banana bread.
It is a decadent dessert that uses coffee creamer as the main ingredient and is topped with banana slices and caramel sauce.
You can serve this cake warm or cold, with or without ice cream, but we recommend you serve it hot straight from the oven and enjoy it with a cup of English breakfast tea or even with decaf coffee. It's a great dish to put up for a weekend brunch or enjoy for dessert at your next family gathering.
Pair Your Desserts With Premium Coffee Blends
From lattes to cappuccinos to hot chocolate, coffee has been used as a way to sweeten up desserts since the beginning of time.
At Red Bud Coffee & Tea, we offer a wide range of premium coffee blends that can make the best base flavor for desserts! These include flavored coffee beans, decaf, and espresso roast coffee beans online!
Visit our store and place your orders for signature coffee beans today!